By staying at the Sunset Residence overlooking Lake Garda located in Brenzone sul Garda, Veneto, you can taste typical products and traditional cuisine of Veneto and Trentino.
Baldo Cheeses
Among the typical products of the area there are the cheeses of Monte Baldo, truly delicious and renowned. Among them we can distinguish the Monte Veronese, the Monte Veronese with whole milk, the Monte Veronese d'Allevo, the Casàt Gardesano, the Casatèle and the delicious fried cheese. In short, a wide range of fresh and mature cheeses, all to be tasted!
Tartufo
Among the typical products of the Veneto and Trentino-Alto Adige area there is, without a doubt, the truffle. In these areas, the black truffle is very famous and sought after, not only for its nutritional qualities, but also for its unique and unique flavour.
Chestnuts
Another typical product that can be easily found in the areas of Trentino-Alto Adige is the chestnut, which for a long time has been the backbone of Trentino's agriculture. Today chestnuts have become one of the main gastronomic excellences of the region with which it is possible to create different types of dishes, both sweet and savoury: confectioner's creams, liqueurs, marron glacè, candied chestnuts, chocolates, craft beers, syrups and of course roasted chestnuts.
Lake fish
It is no secret that in the above-mentioned areas fishing is one of the most important activities for the economy of the area and, for this very reason, lake fish is one of the most consumed and appreciated food. Almost all the typical recipes of the area are strictly based on fish: trout, pike, sardines, eels, carpions and whitefish.
Polenta Carbonera
Among the typical recipes to try absolutely, in the territorial areas between the cities of Verona and Trento, there is the polenta carbonera. The main ingredient of this recipe is Storo corn, which is typical of the Valle del Chiese but also derives from the Marano di Vicenza. Other necessary ingredients are water, polenta flour, salt, Monte Veronese cheese, mushrooms, EVO oil, onion and spices.
Luccio in Saor
Among the typical dishes of Trentino cuisine not to be missed is the Luccio in Saor, made with one of the most famous fish from the lake. The pike is also called "freshwater fish", and is characterized by a particular type of meat that is very lean and easily digestible because it has no connective tissue. The ingredients of this particular recipe are onion, eggs, pine nuts, breadcrumbs, olive oil, white wine vinegar, salt and pepper to taste.
---
Charming home near by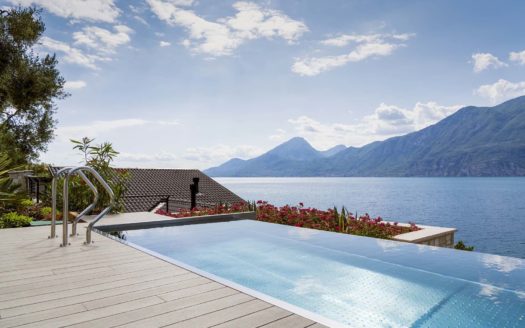 Sunset Residence is located in Brenzone sul Garda, Veneto, in a natural setting of unparalleled beauty. In pursuit ...
Sunset Residence is located in Brenzone sul Garda, Veneto, in a natural setting of unparalleled beauty. In pursuit ...