Those who choose to stay at Hotel Gardenia al Lago in Villa di Gargnano, can make a journey to discover the typical flavours of Lake Garda.
D.O.P. olive oil
One of the typical products particularly appreciated by many is the extra virgin olive oil D.O.P.: it is a delicate oil, fruity and light that can enhance any dish and there are also regular tastings to learn how to distinguish the various pressings.
Garda Wines
The fertility of the hills surrounding Lake Garda, makes them particularly suitable for the cultivation of vines from which wines known throughout the world are produced. Among the most appreciated and known are: Valpolicella, Bardolino Chiaretto, Nosiola, Amarone, Garda, Bianco di Custoza, Lugana and Vino Santo Trentino.
Carne Salada
Visiting Lake Garda, it is impossible not to try the typical dish par excellence of the area: the carne salada.
This meal, typical of the areas between Tenno, Arco and Varone, is an extremely lean meat obtained from the beef rump which is subjected to a particular process that makes it particularly tasty and perfect to be eaten both cooked and raw.
Carpaccio of marinated trout
Fishing is a centuries-old tradition in the towns of Lake Garda that is still practised today thanks to the fishermen who supply the restaurants and shops along the lake.
In recent years there has been an increase in the demand for fish from Lake Garda, so interventions have intensified for the breeding of pike, whitefish and perch. It is no coincidence that among the species that inhabit the lake there is a very rare one and in demand especially by devotees of freshwater fish: the carpione.
It is a fish belonging to the family of salmon that is distinguished by its very tasty and soft meat that can be pink or white.
Bigoli alla Gardesana
Another course that you absolutely cannot miss during your visit to Lake Garda is the Bigoli alla Gardesana.
This is a first course composed of fresh, handmade soft flour dough which is given a particular shape like spaghetti, obtained by using a special press that leaves the surface rough so that the sauce made from sardines, is better absorbed by the dough.
Grilled Whitefish
Among the tasty dishes of Lake Garda the tasty Coregone or Lavarello, among the most precious freshwater fish, could not fail to appear.
Its meat is very white, free of bones and easy to digest, which is why it is particularly popular.
Tortelloni di Luccio del Garda
Fish from Lake Garda is an omnipresent ingredient in the local cuisine, so much so that it also becomes a tasty stuffing for egg pasta.
Among the most appreciated recipes are the tortelloni di Luccio del Garda, a stuffed pasta of great taste value, given precisely by a tasty and delicate filling made with pike, cherry tomatoes, parsley and béchamel giving rise to a real triumph of flavors.
---
Charming home near by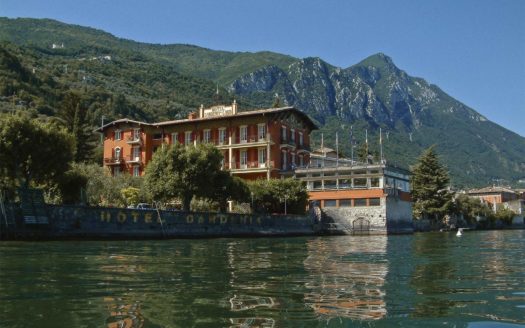 Hotel Gardenia al Lago is a welcoming hotel in Villa di Gargnano, on the Lombardy shore of Lake Garda....
Hotel Gardenia al Lago is a welcoming hotel in Villa di Gargnano, on the Lombardy shore of Lake Garda....