During your stay in the Locanda del Gallo situated in Santa Cristina in Gubbio hills in Umbria,  you will have the possibility to enjoy Tasty flavours of Gubbio area and the gastronomic specialties of this beautiful region.
Strangozzi al Tartufo 
The Strangozzi al Tartufo represent a great and tasty first course. To prepare the strangozzi people only use soft wheat flour and water that are then processed to give them an elongated shape which reminds the spaghetti, but a lot thicker. They can be handmade in a coarsely way like thin tagliatelle. The pasta obtained is very delicate and has to be cooked carefully during the boiling to avoid the breaking. As for all the main courses you can use different flavourings, such as a simple tomato sauce, but this pasta is the best with the delicate flavour of the black truffle. First of all you have to prepare a sauté in a pan with olive oil, garlic and some chopped anchovy fillet, once the heat is off, you can add the black truffle flakes and the sauce is ready to meet the strangozzi.
A specialty to enjoy!
Pappardelle al sugo d'oca
This is a main course that you don't eat every day and in Umbria you can have the occasion to taste it: the delicious Pappardelle with duck sauce. In this region the duck meat is very popular and is used in many recipes. The perfect duck sauce is prepared with high quality duck meat, cleaned, boned and cut into pieces, browned with a sauté with olive oil and onion, celery and finely chopped carrots, everything blended with the white wine. Then some ladles of vegetable soup and peeled tomatoes are added to complete the sauce. Everything has to cook for a long time until the meat becomes very soft and the sauce becomes creamy. Then the pappardelle are boiled, it's better if they are made of fresh pasta, and they are flavoured with the just prepared duck sauce. A rich main course and a real treat for the palate!
Brustengo
The Brustengo or Brustengolo, is a traditional recipe in Gubbio. It is a very versatile dish and can be eaten both sweet and savoury. In fact it has a very simple base realized with flour, water and a pinch of salt, all mixed to obtain a dough that has to be cooked in a pan with olive oil. It is excellent when still hot with melted cheese, and also with many other ingredients for the filling, such as salami and ham, mozzarella and tomatoes, vegetables and olives. Today it is used as a starter or appetizer, or for a fast and light dinner. As mentioned, the brustengo is great also as a dessert, you just have to sprinkle some sugar on it when is still hot. To make the dough more rich, in addition to water and flour you can put an egg in the mix, and can fill the dough with jam, honey, ricotta cheese or chocolate or any other ingredient suggested by your fantasy, a simple but delicious dessert!
Umbria offers you these and many other specialties to discover!
---
Charming home near by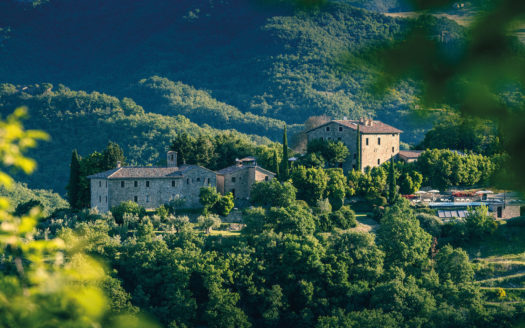 Frazione Santa Cristina, Gubbio (PG)
Set on a verdant ridge with views over an ever-changing landscape, Locanda del Gallo is half way between delightful...
Set on a verdant ridge with views over an ever-changing landscape, Locanda del Gallo is half way between delightful...