Visiting Faenza in the province of Ravenna, staying at the Sacramora 12 design farmhouse, means being able to enjoy piadina and cappelletti among the typical dishes of Faenza.
Oil of Brisighella
All the delicacies you will taste in Faenza will be expertly seasoned with one of the typical products of the region: the oil of Brisighella.
This olive oil, which boasts the Protected Designation of Origin, is obtained from the famous olive tree "Nostrana di Brisighella" and is distinguished by its emerald green color with golden reflections while on the palate is slightly bitter but pleasing..
Marrone
Another typical product of Faenza is the marrone. Be careful, however, we are not talking about the chestnut, even if it is a close relative.
The chestnuts are distinguished not only by their larger size but also by a light mahogany skin, an oval shape and a crunchy and sugary pulp that makes it ideal for long and complex preparation processes such as glazing from which the famous "marron glacé" are made.
Saba or cooked must
Continuing your gastronomic journey in Faenza, you can taste the saba or cooked must.
It is a syrup based on grapes or must that is used both as a sweetener and as a dressing for some traditional recipes such as bread that is baked on Christmas Day in Emilia.
Its unmistakable flavour makes it perfect for making sorbets, soft drinks, slushes or as a garnish for chickpeas, beans, to flavour tarts, ravioli, tortelli and even polenta.
Piadina Romagnola
You can't visit Faenza without tasting what is the identifying product of the region: the piadina, or rather the real piadina, since the people of Emilia are considered to be the creators of this specialty.
Also called piada, it is obtained by combining wheat flour, lard, baking soda (or in recent years a pinch of yeast), water and salt and is cooked on a terracotta surface called teggia, although today it is also cooked on a plate of refractory stone called testo.
Cappelletti and Passatelli
Among the culinary delights of Emilia, there is no doubt that cappelletti and passatelli are considered to be the most noble and renowned delicacies of the region.
In Romagna, cappelletti, a stuffed pasta, are made with two different kinds of stuffing: cheese only or with the addition of meat.
The particularity of this pasta lies in its thin sheet of pastry that highlights all the flavor given by the filling.
They are served strictly in broth in a white or flowery bowl placed at the center of the table, with the cappelletti inside, which can be enjoyed after resting for fifteen minutes.
Passatelli, on the other hand, represent the classic regional soup. This pasta that probably comes from the well-known stracciatella, has a mixture of eggs, cheese and breadcrumbs, and is made by using a particular iron that gives origin to its characteristic shape, which will be cooked in the broth.
---
Charming home near by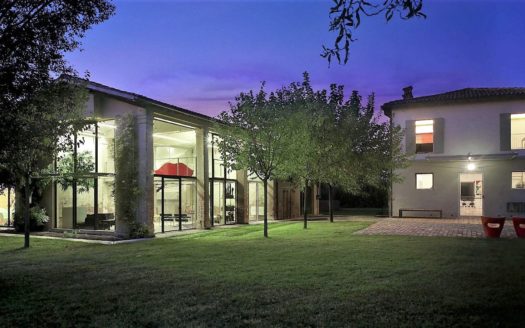 Sacramora 12 is an enchanting and modern design agritourism located in Faenza, in the province of Ravenna, an area...
Sacramora 12 is an enchanting and modern design agritourism located in Faenza, in the province of Ravenna, an area...