While staying at the B&B Rifugio La Montanara in Molveno you can experience the pleasures the typical products: a journey to discover the culinary tradition of Trentino.
Mortandela & Ciuiga
Among the typical products that you can taste during your stay in Trentino there are some delicious sausages: the Mortandela and the Ciuiga. The Mortandela is a sausage that differs from the mortadella for its round shape, as well as for the smoked flavor. Today it is produced according to the principles of tradition, but it is necessary to have the proper raw material. This salami is very good seasoned and raw, either alone or with other local cold cuts and cheeses. Fresh mortandela is good with polenta, boiled vegetables and potatoes.
Ciuiga is another typical dish of Trentino: it is a salami prepared with ground pork, turnips, garlic, salt and black pepper. Its production dates back to the nineteenth century and the recipe has been handed down from family to family. Still today it is produced with the same process used in the past.
Spressa & Casolet
Among the culinary excellence of the Trentino-Alto Adige region, you can find the Spressa and the Casolet. The Spressa is a cheese made with cow's milk, rich in aromas as well as being semi-fat because its name comes from "Spress" which means "depleted of fat".
Casolet is a soft fat cheese, produced with whole milk and its forms can reach a maximum weight of 3 kg.
Trentingrana
Trentingrana is a semi-fat cheese made from rennet, salt and milk. It is part of the family of cheeses grana DOP, as it is part of the DOP grana padano.
Speck Scudo
Speck Scudo is a typical Tyrolean smoked product, obtained from the thigh of the boneless pig. To this are added salt, natural flavours, spices, garlic and dextrose.
Canederli
Popular since the 13th century, the Canederli belong to the typical cuisine of Trentino.  They are dumplings of bread, milk and eggs to which is added flavor with speck, ham, cheese and parsley.
Potato pie
The Trentino cuisine boasts the presence of this savoury cake, made with potatoes, salt and flour. It is made in two versions: the "potato pie", which is baked in the oven, and the "potato tortel", which is fried in a pan and served with cold cuts, beans and jams.
Smacafam & ricotta gnocchi
Smacafam is a typical food of Trentino Alto Adige, which literally means "hunger crusher". It is made with fresh Lucanica pasta or sausage, 00 flour, milk, eggs, salt, pepper and sunflower oil.
Ricotta gnocchi are another typical dish of Trentino Alto Adige made with mountain ricotta, butter, eggs, grana padano cheese, flour, breadcrumbs, nutmeg and parsley.
Apple fritters
A tasty dish typical of Trentino-Alto Adige is made from apple fritters, a very tasty typical dessert. They also go well accompany by salty food and pork.
---
Charming home near by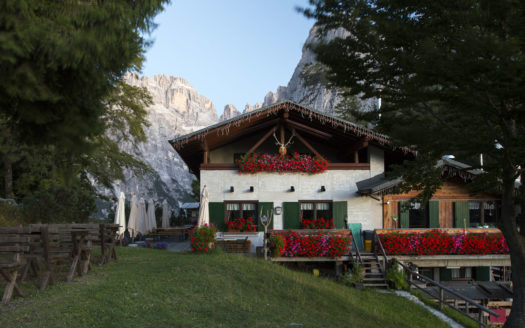 Located in Molveno, on the Pradel plateau, within the Adamello Brenta Natural Park in Trentino Alto Adige, the Rifu...
Located in Molveno, on the Pradel plateau, within the Adamello Brenta Natural Park in Trentino Alto Adige, the Rifu...