During your stay in the B&B Il Sambuco, situated in Vignola, in the district of Trento, in Trentino Alto Adige, you can taste canederli, polenta and strudel, the best dishes of the tradition.
Canederli
The Canederli, also called Knodel in German, are meatballs served as second dish and their tradition is the same in Alto Adige, Valtellina, Austria and some Eastern European states. The meatballs are made with a paste of stale bread, milk, eggs and bacon, and are cooked in broth. The sweet canderli instead are prepared with potatoes, flour, apricots or plums, sugar and cinnamon.
Strangolapreti
The Strangolapreti, or Strozzapreti, are a first course of pasta, popular in many regions of Italy. In Trentino they are made with breadcrumbs, eggs, spinach and typical cheese. They form the dumplings that have a smaller dimension than that of other traditions. The name is derived from the popular tradition that the priests used to choke with pasta, because of its size.
Polenta
Polenta is a famous dish in different regions of northern Italy, with numerous variations in preparation. The polenta was born as a poor dish, but in Trentino Alto Adige there's the polenta concia which is prepared in a rich and hearty version. Once boiled the corn meal, add cream cheese and hard cheese in large quantities to equal the weight of the flour, add then butter and sausage; the dish is served hot.
Tortello di Patate
The tortello of potatoes, or tortel de patate, is a typical dish of the Val di Non. The tortello has a very simple preparation with grated potatoes and flour. The dough is baked in the oven with lard, to get a crispy golden tortello. In other versions it can be fried. This dish is served with cured meats such as bacon, salami or cheese, and also with beans or cabbage.
Orzetto
The orzetto, also called Orzotto alla trentina, is a barley soup. It's a very old recipe and needs a long cooking. The barley should be left to soak the night before, then they prepare a sauté of vegetables: onions, carrots and celery, with the addition of cubes and bacon. They pour water to form the broth and after the addition of barley it is baked for at least an hour. You get a thick, tasty and very nutritious soup.
Carne salada
The Carne Salada is a typical salami from Trentino. It is prepared with different cuts of meat of beef or veal, and in the past was used to prepare the boiled meat. In recent years, it has been consumed like any sausage, stir-fried or raw as carpaccio.
Strudel di Mele
The apple strudel is one of the most famous desserts of the local tradition. Its recipe originated in Austria, but this dessert is much older and an early version was already known in the eighth century BC. Today, this delicious cake is made with puff pastry and apples, with the addition of raisins, pine nuts, sugar and cinnamon. The Trentino can boast a large apple production, mainly in the Val di Non, which are used to prepare this traditional dessert in every season.
---
Charming home near by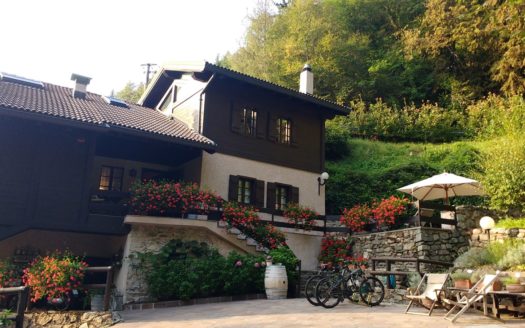 Frazione Vignola 108, Vignola-Falesina (TN)
Il Sambuco B&B is a little "maso" (farmhouse), as this kind of building is known locally. Standing at 1000...
Il Sambuco B&B is a little "maso" (farmhouse), as this kind of building is known locally. Standing at 1000...