Staying at Poggiolivi Country House, located in Magliano, in the province of Grosseto, in Tuscany, you can attend to the feasts and festivals typical of Maremma.
THE MADONNINO FAIR
In April in Grosseto, the Madonnino Fair is rich of products from various different fields. Crafts, clothing, food, agricultural, gardening machinery and many other interesting exhibitions. The fair includes a covered area and an outdoor area and is equipped with dining options.
EXPLORE MAREMMA WALKING FESTIVAL
In May, June and September, in Manciano takes place Explore Maremma Walking Festival with free guided tours to visit the Maremma by foot. The itineraries will be illustrated by trained guides and include naturalistic excursions, visits to archaeological sites, fortresses and panoramic views.
THE NIGHTS OF ARCHAEOLOGY
In July throughout Tuscany, you can attend to the Archeology Nights. This wonderful initiative includes the opening night of museums and archaeological sites, with programs and itineraries are dedicated to the visitors of all ages.
THE RODEO OF THE ROSE
On August 15th in Alberese, takes place the Rodeo of the Rose. The rodeo is disputed by the Butteri of Maremma, divided into 2 teams. Each of them has a rose on the shoulder that the opponent will try to take. The team that takes the most opposing roses wins.
PROCESSION OF SAN LORENZO
In August in Grosseto you can attend the beautiful Procession of San Lorenzo. The statue of the saint is carried in procession on a cart pulled by big oxen. It goes among the streets of the historic center to arrive to the Cathedral, where the bishop blesses the crowd.
FESTIVAL ORBETELLO JAZZ
In September Orbetello hosts the Jazz Festival, an international event that includes the participation of many musicians from all over the world. The scenery is very impressive, organized on the panoramic terrace of the Polveriera Guzman, a fortress built by the Spaniards at the end of the 17th century. With the splendid view of the lagoon as a natural background, jazz evenings will be even more exciting.
BUTTERI OF MAREMMA FESTIVAL
In September in Roselle takes place the Butteri of Maremma Festival. The Butteri are the traditional shepherds of the area, as the cowboys overseas. During the festival they will demonstrate their work. There will be evidence of skills such as the capture of calves, the gathering of herds and choreography on horseback.
---
Charming home near by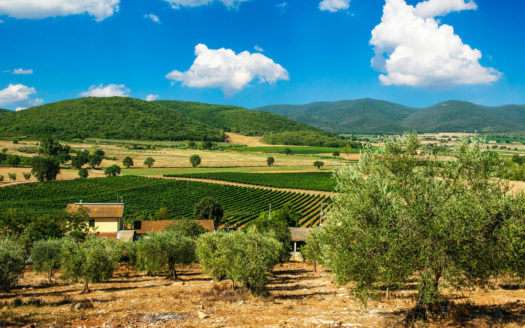 Località Cupi 11 , Magliano in Toscana (GR)
Poggiolivi Country House is a beautiful agritourism near  Magliano, a town in the province of Grosseto, in Tuscany...
Poggiolivi Country House is a beautiful agritourism near  Magliano, a town in the province of Grosseto, in Tuscany...