During your stay in Tenuta Monticelli or in the Palazzo Castriota, situated in Gallipoli, in Lecce district, in Salento, in Puglia, you can taste all traditional dishes of Salento.
Cecamariti
The cecamariti are excellent pancakes. Their singular name is linked to the tradition that says that while eating these pancakes husbands don't see the wives' defects or deficiencies. It seems that the dish is also considered an aphrodisiac! To prepare this specialty they use zucchini, tomatoes, onions and chopped chillies. Prepare a batter with eggs and flour and combine the vegetables. So cecamariti are fried in plenty of oil, and this is a great appetizer or side dish to serve warm!
Le fave nette salentine
The net fava beans of Salento are a vegetable side dish of the countryside tradition. The ingredients are beans and wild chicory, which make up a simple and poor, tasty and nutritious dish. Let the dried beans soak and cook them the next day, traditionally in a clay pot. Long cooking softens the fava beans which are then mashed to create a thick puree. The wild chicory is cleaned and boiled for a few minutes and then fried with onion, olive oil and a pinch of red pepper. The dish is served with mashed fava beans and chicory accompanied by homemade bread. The contrast between the bitter flavor of chicory and the sweet flavor of beans is the main characteristic of this tasty dish.
Ciciri e tria
The ciciri e tria is a rustic dish made of chickpeas and pasta. The chickpeas are cooked with carrot, onion, celery, bay leaf. Preferably in a clay pot as required by tradition. The long 2 – 3 hours cooking will help to cook a tasty, thick chickpeas soup. When the chickpeas soup is ready, is mixed with pasta. Prepared with durum wheat semolina, in the shape of tagliatelle, it is divided into two parts, one is boiled in water, and the other is fried in oil, the latter is called "tria". So pasta and chickpeas soup mix to form ciciri e tria, a rich dish typical of Puglia.
Scapece
The Scapece is a dish from Puglia originated in Gallipoli. It is made of stored fish, which comes from a long maritime tradition where the fish was the main ingredient, but also from necessities due to sieges and wars so the food had to be stored and sometimes hidden for long periods. Scapece is prepared with small fish, fried and placed in layers in tubs called "calette." The layers are made of breadcrumbs, vinegar and saffron. The long marinating softens the fish and also the bones, in fact it is not cleaned before preparation. Saffron will give the dish its characteristic yellow color. This ancient fish conservation method is still very common and the scapece, that was an ancient remedy, has become a typical specialty recognized for its taste and goodness.
---
Charming home near by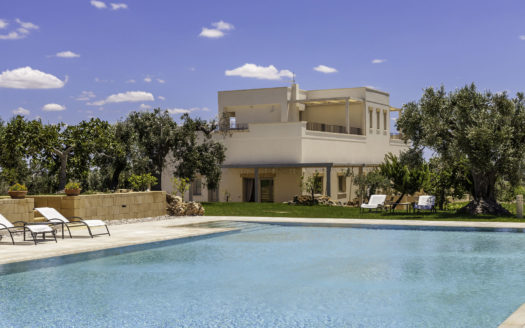 Strada Vicinale Santo Stefano, Alezio (LE)
Tenuta Monticelli, set in the countryside outside the town of Alezio, is only 3 km away from Gallipoli, whose old t...
Tenuta Monticelli, set in the countryside outside the town of Alezio, is only 3 km away from Gallipoli, whose old t...