During your stay in Casa dei Grilli, situated in Longiano, in Forlì Cesena district, in Emilia Romagna, you can take part to wine, music and Christmas tradition, among the festivals of Romagna area.
ROMAGNA WINE FESTIVAL
In April in Cesena there's the Romagna Wine Festival, dedicated to wine lovers. Between tastings and conferences you'll discover the producers of the most appreciated wines of Romagna, participate in sensory pathways, and listen to stories about wine. All accompanied by typical dishes.
SAGRA DELLA CILIEGIA
In June in Longiano there's the Cherry Festival. Longiano was called Valley of Cherries for its rich production of this delicious fruit. There are many food stands that offer cherries, but also other fruits and vegetables. There are also many shows, concerts, performances and workshops for children during the three-days festival.
VINI E SAPORI IN STRADA
In June in Bertinoro there's the Wines and Flavours in the street. With this event they want to enhance the wine along with the land that produces it, the routes and the paths that lead us to discover the villages and the towns in the district of Forlì-Cesena, with its culinary, natural and cultural richness.
FESTIVAL ARTIGIANATO E SAPORI
In June in Savignano every year there's the Craft and Flavours Festival. It is an exhibition of local products throughout Italy, from gastronomy to pottery, iron, wood. Large space is dedicated to ecology by presenting products careful about the environmental impact, more and more important in recent years.
BORGO SONORO
Between July and August, in the various towns of the district, there's Sound Village. Among Longiano, Savignano sul Rubicone, Mercato Saraceno, Montiano, Roncofreddo and Sogliano al Rubicone there are concerts of various kinds from classical music, world music, pop, jazz and others to cheer the summer evenings in various locations. Italian and international artists will perform their own works or revisit classical music.
FESTIVAL INTERNAZIONALE DI ORGANETTO
In September in Longiano there's the International Accordion Festival. For over ten years this very special festival attracted the attention of adults and children. Antique accordions and their picturesque musicians from many European countries, will flood the streets with music and performances that will bring us back in a few centuries when in the nineteenth century these instruments were a must during festivals and celebrations. During the festival you will have the opportunity to taste different local specialties, and taste the local wines.
LONGIANO DEI PRESEPI
In December in Longiano there's a magical Christmas atmosphere. Longiano of the Nativity scene was born after the war with a mechanical nativity scene at the convent of St. Crucifix, and today hosts hundreds of nativity scenes in the village located between the streets and squares, gardens, convents and museums. Artists and ordinary citizens offer their interpretation of the nativity with different materials, shapes and colors, with projects and traditional or futuristic structures. A magical and evocative settings that accompanies us to Christmas.
---
Charming home near by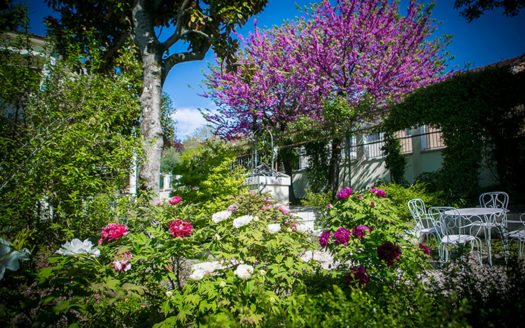 Via IV Novembre 49, (FC)
Casa dei Grilli is just outside the centre of Longiano, a picturesque medieval town still protected by its ancient ...
Casa dei Grilli is just outside the centre of Longiano, a picturesque medieval town still protected by its ancient ...