Book your holiday at the Au Rascard Hotel, located in Brusson, in the province of Aosta, in Aosta Valley, where you can enjoy typical recipes of the regional tradition.
Chestnut and barley soup
The chestnut and barley soup is a nutritious and very ancient dish perfect to warm up the cold autumn days. Using dried chestnuts, we can taste it until late winter. The dish includes common ingredients of the Valdostan mountains such as chestnuts, but also milk and butter. Chestnuts, boiled after a long soaking in cold water, are cooked in milk to make the soup, then they added rice. Finally, plenty of butter is added. Sometimes you can find an enriched version of the soup with vegetables and legumes, with chickpeas, carrots, beets or potatoes. The chestnut and barley soup is dense and creamy and serves hot, enjoy it accompanied by slices of toasted bread and red wine.
Herbal soup
When spring comes, valleys and mountains are enriched with new flavors, and you can taste a delicious spring herbal soup. Traditionally associated with poor cooking, soups involve the use of wild herbs with different proportions and variations depending on the period and the harvest area. A very common recipe in Aosta Valley is Valpellina soup, made from cabbage, a vegetable with a great resistance to cold, fontina and rye bread. The soup is made in layers, wet with beef broth, and has a very thick texture.
Another regional dish typical of Aosta Valley is the Favò, a fava bean soup. This kind of soup was the livelihood for peasants during harvesting, at first very simple in its composition with beans and black bread. By the time the recipe has been enriched with fontina, butter and sausage to give rise to a rustic and substantial soup.
Sanguinaccio with potatoes
The sanguinaccio or boudin, is a recipe of ancient origins, when the peasants used to recover the possible from the little meat available. The main ingredient is pork or bovine blood, prepared with spices, bacon and boiled potatoes. The sanguinaccio is put to maturation, if this is short then need to be cooked, if it is longer the sanguinaccio can be consumed cold as an appetizer.
---
Charming home near by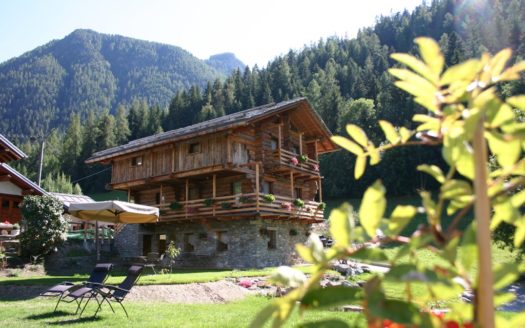 Au Rascard occupies a magnificent position, situated at an altitude of 1330 m above sea level, in a beautiful corne...
Au Rascard occupies a magnificent position, situated at an altitude of 1330 m above sea level, in a beautiful corne...