Book your vacation at the Au Rascard Hotel, located in Brusson, in the province of Aosta, in Aosta Valley, you will discover the most beautiful villages and towns in the mountains of this beautiful region.
ISSOGNE
Issogne Castle
Located in the town of Issogne, the castle looks like a elegant mansion dating back to the Renaissance period. It was actually built on an ancient Roman villa and the first building dates back to the 12th century. The elements that make the castle unique and distinctive are its internal courtyard, where stands out the pomegranate fountain, the Italian garden and the portico full of frescoes representing everyday life scenes of the Middle Ages.
AYAS – ANTAGNOD
At the foot of Mount Rosa is one of the oldest and most beautiful villages of the Aosta Valley, the village of Antagnod. Among ancient traditions and legends, the village is known for the famous wood sabots.
In this way those who decide to spend a holiday in Val d'Ayas will be attracted by the beauty of landscapes, villages and castles, but also by a very old handicraft business. The production of wooden sabots is typical of this area, these particular shoes come from the processing of pine tree and they have become a pretty souvenir for tourists.
BRUSSON
Ancient gold mine
Discovered in 1899, the gold mine of Chamousira is the most important gold mine in the Aosta Valley. Operative from 1900 to 1980 has an extension of 1600 meters underground and is surrounded by plants used for mineral extraction and processing.
Graines Castle
Surrounded by a wall of 80m for 50 of irregular shape to better fit the ground on which it is built, the Graines Castle is located on a rocky promontory overlooking Brusson and part of the Val d'Ayas. Its architecture is an example of a valdostan primitive castle and the legend tells that an ancient treasure is buried there.
FENIS
Hosted in Villa Montana and opened in 2009, the MAV (Museo dell'artigianato valdostano, handicraft museum of Aosta Valley) is a museum where are displayed about 800 art items. The crafts are organized according to thematic areas and without windows to better enjoy the features that characterize the agro-pastoral community.
BARD
Fort of Bard
Open to visitors only in 2006, the fort has a medieval origin, later rebuilt by the Savoy in the 19th century. Its strategic position on a hill overlooking Dora Baltea river allowed to control the access to France. Today, the Fort hosts three permanent trails "The Museum of the Alps", "The Prisons" and "The Alps of the Boys" such as art and photography exhibitions.
---
Charming home near by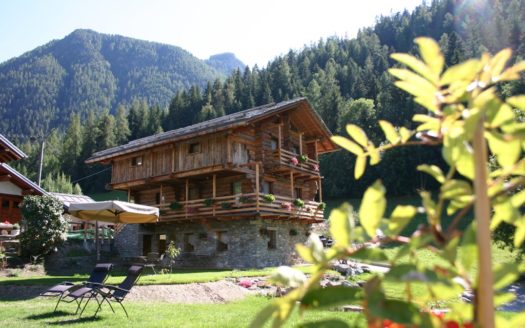 Au Rascard occupies a magnificent position, situated at an altitude of 1330 m above sea level, in a beautiful corne...
Au Rascard occupies a magnificent position, situated at an altitude of 1330 m above sea level, in a beautiful corne...