During your stay at Villa Elaia, both located in Cefalù (District of Palermo), in Sicily, you can admire the ancient and amazing Sicilian festivals.
Processione Venerdì Santo
In Cefalù, the religious Easter traditions are really felt. The moving and solemn Processione del Venerdì Santo (Good Friday Procession), winds along the streets of the town, where the sacred images of the Dead Christ and Mary of the Sorrows are brought.
Processione dei Misteri
Every year, during the Holy Week, along the alleys of the old town of Caltanissetta, ancient and century-old traditions come back to life. Amongst several processions, the Processione dei Misteri (Procession of Mysteries), which takes place on the Holy Thursday, roots at the end of the Eighteenth Century. After a few changes, starting from 1800, this depiction has occurred with sixteen statues, made by Neapolitan artisans.
La Fruottula
The Fruottula, which in Italian sounds like the Bread Festival, is one of the most ancient tradition testimonies of Cefalù, which reminds of the celebrations of ancient guilds and workforces. The Fruottula symbolises the strong relation between the labor and the ground, fact that clearly arises through the peculiar setup of the parade carts that, on this occasion, are decked with early products and flowers in season.
Sarbaturi Nicu
The Most Holy Saviour is celebrated on the 2nd of July too, by the event called Most Holy Saviour in the Tower, also known as "U Sarbaturi nicu" or "Sarbaturieddu", meaning the Little Saviour. Within a lofty alchemy of mysticism and folk, this particular festival sees a melting between sacred and secular.
Ntinna A Mari
The Ntinna a mari, literally antenna into the sea, is a traditional game performed on the 6th of August, which is the last day of the celebrations for the Most Holy Saviour of the Transfiguration. In front of the small port of Cefalù, they place a greasy pole, on which end a flag is placed, which has to be grabbed by the contenders.
Ra Pasta a Taianu
The most typical dish of Cefalù is the Ra Pasta a Taianu, which is prepared between the 4th and the 6th of August, and on the 15th of the same month, on occasion of the celebration of the Most Holy Saviour of the Transfiguration.
Processione sul Mare
On the 14th of August, occurs the wonderful Procession on the Sea. This ceremony gathers the support of a number of boats, decked on purpose, which carry the statue of Our Lady from Kalura to the old port, and back.
---
Charming home near by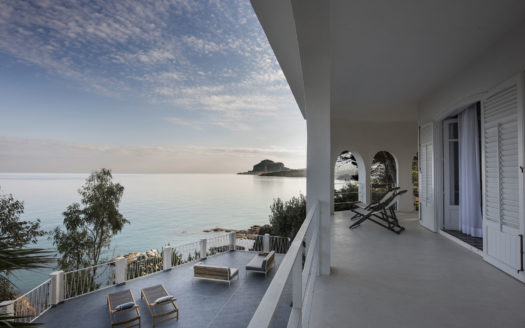 Via la Maddalena 21 , Mazzaforno (PA)
Elaia comprises a villa, located on top of a cliff and with its own access to the sea shore, and a lovely house set...
Elaia comprises a villa, located on top of a cliff and with its own access to the sea shore, and a lovely house set...