During your stay in Masseria Serralta and Masseria Luco, situated in Locorotondo, in the district of Bari, in the Valley of Itria, in Puglia, you can taste delicious dishes of Locorotondo, Itria Valley.
Orecchiette alle cime di rapa
The Orecchiette with turnips are one of the most popular dishes of Puglia. Their name comes from the shape of the small circles of dough with a hump in the middle that look like little ears. This recipe originated around the twelfth century and is linked to the town of Bari, but it quickly spread throughout Puglia. The best way to eat orecchiette is to prepare them with fresh handmade pasta. Orecchiette are boiled together with turnips, but you can also use other vegetables such as broccoli. In this way the pasta absorbs the flavor and the nutrients of vegetables. Orecchiette can also be eaten in an excellent version with meat sauce, traditionally used on Sundays and feast days.
Carne d'asino
The donkey meat is very popular in Puglia and is best enjoyed stewed in a pan, with a slow cooking that makes it soft, you can also make an excellent sauce for pasta. Another recipe used in Puglia are the rolls, so they prepare chops of donkey meat, slices of bacon and chopped garlic and parsley that form a tasty roll. The rolls will be fried and then will be added to the tomato sauce in which they will cook slowly for about 3 hours. At the end of the cooking, the rolls are soft and tasty and the sauce can be used to flavor excellent pasta dishes!
Gnummareddi
The gnummareddi are typical of Puglia and can be found also in other regions such as in Molise and Basilicata. They are also known as turcinelli. These delicious rolls are prepared with the entrails of lamb: liver, lung, kidney, seasoned with parsley and wild fennel and closed with guts to form a ball. The gnummareddi are grilled and flavored with bay leaves, an old recipe linked to the pastoral tradition.
Involtini di trippa
The tripe rolls are a nutritious and very tasty dish that can also be served as a main dish. The rolls are prepared with tripe strips seasoned with parsley and cheese and rolled up to form a small roll. The roll is baked in a pan, often with other pieces of tripe, while separately a stew of vegetables is prepared with carrots, celery, potatoes and tomatoes. Vegetables and tripe can be joined or served separately. This dish is great in winter, accompanied with toasted bread.
Bombette
The "Bombette" are typical of Alberobello, but eaten throughout Puglia. This delicacy is prepared with slices of pork rolled up into a small bundle. The roll is stuffed with bacon, chopped parsley and caciocavallo cheese. The traditional bomblets should be small and should be breaded and then fried, they are very tasty!
---
Charming home near by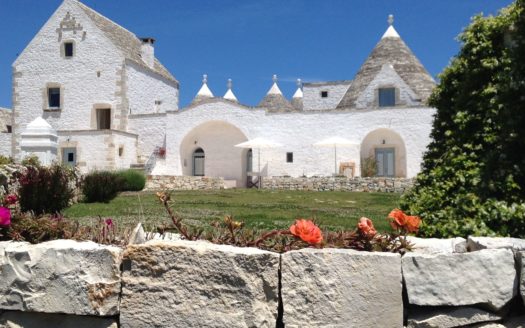 S.C. 86 Contrada Serralta 39, Valle D'Itria (BA)
Masseria Serralta sits nestled in the picturesque landscape of the Itria Valley in the region of Apulia, located as...
Masseria Serralta sits nestled in the picturesque landscape of the Itria Valley in the region of Apulia, located as...