During your stay in La Luna di Quarazzana, situated in Fivizzano, or in the Villa Norma located in Licciana Nardi, in Tuscany, you can taste breads, crespelle and lamb among the typical Tuscan recipes.
Panigacci
The Panigacci are typical of Lunigiana and date back to the Middle Ages when they were brought by pilgrims as a supply of food for their journey to Rome. They are made with flour, water and salt and are a very old type of bread. You can find both soft and crisp, and today they are stuffed in a thousand ways, with meats and cheeses. Traditionally, they are tasted with olive oil and grated pecorino cheese, or seasoned with pesto sauce. Another way to enjoy the Panigacci is to wet them in hot water and season them with the sauce.
Testaroli
The Testaroli are a type of soft focaccia, but without the yeast. Their name is due to the tool that was used to prepare them, called the Testo. The testo could be made in iron or terracotta, was warmed on the coals and then used to bake the dough. The Testaroli are prepared with flour, water and salt, then you get a disc of dough which is then cut into squares, and seasoned with different sauces or pesto.
Polenta incatenata
The chained polenta is a very old dish of humble origins. It was prepared with different wild herbs, depending on the area and season, which could include wild fennel, borage, chicory, beet, hops, and so on. Today you can prepare it with other types of vegetables and cauliflower. Together with herbs they cook the beans in boiling water, once cooked you can add the cornmeal to prepare the polenta. After half an hour of cooking the polenta is ready and you get a delicious dish, which is great just made or heated the next day, when the polenta has become solid and you can cut it into slices to grill.
Cian con ricotta
The Cian are a type of crespella, made with milk, flour and eggs. You get a liquid batter to be baked in the pan as the crepes. To stuff the cian they prepare ricotta seasoned with salt and pepper, it is placed on the cian which is wrapped. A delicious variant is the addition of porcini mushrooms, stir-fried and combined with cottage cheese for the topping. Then they pass the cian in the oven and is ready to be served with a cream made of butter and flour, and a sprinkling of Tuscan cheese. An excellent dish for autumn!
Agnello di Zeri
The lamb of Zeri, originated in the homonymous village, is a particular breed of sheep. Given the isolation of zerasche valleys over the centuries, this species is distinct and its breeding is limited. The result is a unique and beautiful flesh, part of the Slow Food Presidium. The lambs are breeded outdoors using traditional methods, in an unspoiled area away from urban centers. The lamb is prepared stewed, baked or barbecued.
---
Charming home near by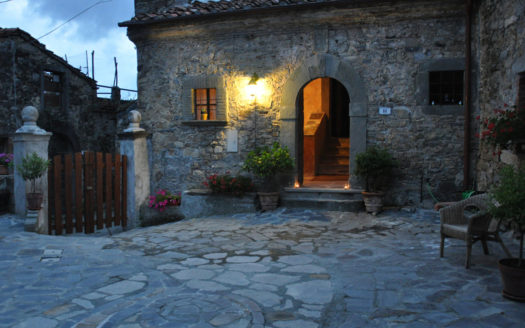 Via Nardi 9, Fivizzano (MS)
La Luna di Quarazzana is situated 8 km away from Fivizzano, an historic town set amidst chestnut and beech woods wh...
La Luna di Quarazzana is situated 8 km away from Fivizzano, an historic town set amidst chestnut and beech woods wh...