A relaxing stay at Canonica di Corteranzo situated in Murisengo, in Monferrato in Piedmont, you can taste 5 delicious dishes of Monferrato in Piedmont.
Agnolotti 
Agnolotti are a delicious filled pasta, originally from Monferrato. There are different versions of this dish, the most famous in Piemonte are the squared agnolotti and the "plin" agnolotti, plin means nip and they have a shape that reminds the tortello. Inside the egg pasta there's a roasted meat filling that was originally made with the leftover meat from the previous day with some vegetables. For this reason you can find many kinds of filling like pork and veal meat or sausage. Today, the agnolotti are cooked with roasted meat sauce, or with butter and sage, meat sauce, or meat soup to make an ancient and tasty recipe!
Bollito e fritto misto alla piemontese
The boiled and the mixed fry in Piemonte are both typical dishes that used to include different kinds of meat depending on the availability in the various houses, and served in celebration days. As regards the boiled, the different parts of meat are boiled in soup with vegetables and then are served hot. As regards the fry, many kinds of meat are fried, including lamb, pork and veal giblets. Those are rich dishes perfect for the coldest periods of the year.
Bagna Cauda
Bagna Cauda, or Caoda in Piemonte, means hot sauce. It is a representative and well known dish in Piemonte, can be served both as a starter or as single course with vegetables. It's a poor dish with peasant origins, is traditionally cooked and served in an earthenware bowl and placed in the middle of the table to share it with the others and let everyone dip their vegetables, thistles, potatoes, celery, leeks. Its unique flavour is given by the garlic and salted anchovies, oil and milk, creating a thick and delicious sauce!
Torta di nocciole
The hazelnut cake is an example of the many recipes in which the hazelnuts from Piemonte are used. It is a characteristic dish from Langhe. To make the cake you have to roast the hazelnuts, then they have to be cleaned and thinly grounded, then you have to add them to the butter, eggs, olive oil, sugar, flour and milk mixture. At the end you will get a soft and delicious dessert. The cake has to be served with honey, as the tradition says.
Baci di dama
These delicious treats that are known all over the world were born over a century ago. Baci di Dama's name is given by the shape of the two round biscuits joined together, reminding two lips kissing. You can use almonds or chopped hazelnuts, as well as sugar, butter, flour in the cookies dough. Some balls are formed and during cooking they slightly lower to create a flat base. Once the biscuits are cold, they are joined together by a layer of chocolate. These desserts' appearance is unique, there are now many variations such as the recipe with the cocoa in the dough and white chocolate to join them together, for a great optical effect, and of course an excellent flavor!
Krumiri
The krumiri, with their distinctive shape, are biscuits dating back to the late nineteenth century. Their recipe, which is very simple, has different variants. Among the most known we have the one made with corn flour, sugar, butter and eggs. The biscuits were served with zabaglione and they have been highly appreciated by the aristocracy in Piemonte.
Piemonte and its delights are awaiting you!
---
Charming home near by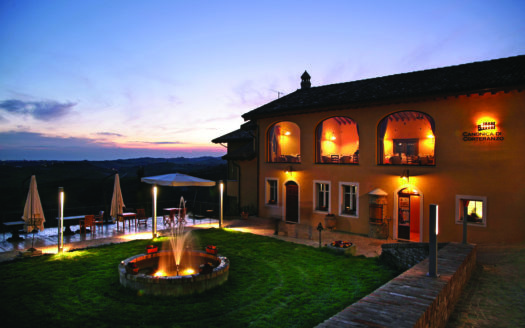 Via Recinto 15 – Frazione Corteranzo, Murisengo (AL)
La Canonica di Corteranzo is located in Piedmont, within the district of Alessandria. It is about five minutes by ...
La Canonica di Corteranzo is located in Piedmont, within the district of Alessandria. It is about five minutes by ...